Organization chart
Page 3 of 11
Assoc. Prof. Dr. Gan Chee Yuen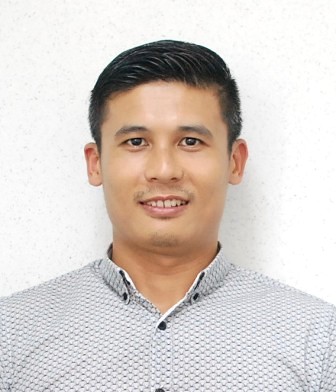 Contact:
Address: Analytical Biochemistry Research Centre (ABrC), Universiti Sains Malaysia, 11800 USM, Penang, Malaysia
Telephone: 04-653 4260
Email: cygan@usm.my
Personal website: http://www.gan-chee-yuen.com/
ResearchGate: https://www.researchgate.net/profile/Chee-Yuen_Gan
Scopus: https://www.scopus.com/authid/detail.uri?authorId=55387004300
Google Scholar: https://scholar.google.com/citations?user=lTmiWlsAAAAJ&hl=en
Currently, working as Deputy Director in ABrC.
Previously given administrative and technical responsibilities: Deputy Technical Manager (in food safety testing, drug of abuse testing, elemental testing) as well as Quality Manager (ISO/IEC17025).
Over 6 years of experience in Academic and Research Sector and 1 year as Post-doctorate fellow.
A proactive academician and researcher with expertise in the research field of analytical chemistry and food chemistry.
Managed to publish 43 international journals and actively involved as reviewers (reviewed over 200 articles) for the past 6 years.
Successfully secure several research grants including ERGS, RU and private grants.
Professionally recognized as science consultants.
Analytical Chemistry – Mass Spectrometry
Biomolecular Chemistry – Biologically active molecules, characterization of biological macromolecules, protein and peptides
Biotechnology/Food Chemistry – Enzyme Technology
Discovery of anti-diabetic, anti-obesity and anti-hypertensive peptides from food sources using an integrated Bioinformatics-Phage display approach.
Isolation and identification of bioactive polysaccharide from plant materials
Immobilization of enzyme for the production of bioactive peptides from a complex source of proteins
Reviewer of Articles in Academic Journals and Books
Associate Editor for International Journal Network
Editorial Board Member for American Journal of Food Science and Nutrition, and American Journal of Science and Technology
Award winner in different exhibitions and seminars (such as Malaysia Technology Expo, BioMalaysia and BioInnovation)
Members of American Society for Mass Spectrometry (ASMS) , American Chemical Society (ACS), American Peptide Society (APS) and European Peptide Society (EPS)
Science consultant for private companies
ISO/IEC 17025 technical assessor under the Department of Standard Malaysia
Gan, C.Y., Cheng, L.H., & Easa, A.M. (2008). Physicochemical properties and microstructures of soy protein isolate gels produced using combined cross-linking treatments of microbial transglutaminase and Maillard cross-linking. Food Research International, 41(6): 600-605.
Gan, C.Y., Cheng, L.H., & Easa, A.M. (2008). Evaluation of Microbial Transglutaminase and Ribose Cross-linked Soy Protein Isolate-based Microcapsules Containing Fish Oil. Innovative Food Science and Emerging Technologies, 9(4): 563-569.
Gan, C.Y., Cheng, L.H., & Easa, A.M. (2009). In-vitro digestibility and amino acid composition of soy protein isolate cross-linked with microbial transglutaminase followed by heating with ribose. International Journal of Food Sciences and Nutrition 60, 99-108.
Gan, C.Y., AlKharkhi, A.F.M. & Easa, A.M. (2009). Using response surface methodology to optimize process parameters and cross-linking agents for production of combined-crosslinked bovine serum albumin gels. Journal of Bioscience and Bioengineering, 107: 366-372.
Gan, C.Y., Cheng, L.H., & Easa, A.M. (2009). Assessment of Maillard
reaction and cross-linking in transglutaminase-cross-linked powdered soy protein isolate gel. Journal of Food Science, 74(2): C141-C146.
Gan, C.Y., Ong, W.H., Wong, L.M., & Easa, A.M. (2009). Effects of ribose, microbial transglutaminase andsoy protein isolate on physical properties and in-vitro starch hydrolysis of yellow noodles. LWT-Food Science and Technology, 42(1): 174-179.
Gan, C.Y., Cheng, L.H., Phuah, E.T., Chin, P.N., AlKharkhi, A.F.M. & Easa, A.M. (2009). Combined cross-linking treatments of bovine serum albumin gel beadlets for controlled- delivery of caffeine. Food Hydrocolloids, 23: 1398-1405.
Gan, C.Y., Latiff, A.A., Cheng, L.H., & Easa, A.M. (2009). Gelling of microbial transglutaminase cross-linked soy protein in the presence of ribose and sucrose. Food Research International, 42:1373-1380.
Gan, C.Y., Abdul Manaf, N., & Latiff, A.A. (2010). Optimization of alcohol insoluble polysaccharides (AIPS) extraction from the Parkia speciosa pod using response surface methodology (RSM). Carbohydrate Polymers, 79, 825-831.
Gan, C.Y., Abdul Manaf, N., & Latiff, A.A. (2010). Physico-chemical properties of alcohol precipitate pectin-like polysaccharides from Parkia speciosa pod. Food Hydrocolloids, 24: 471-478.
Gan, C.Y., & Latiff, A.A. (2011). Optimization of the solvent extraction of bioactive compounds from Parkia speciosa pod using response surface methodology. Food Chemistry, 124: 1277-1283.
Gan, C.Y., & Latiff, A.A. (2011). Extraction of antioxidant pectic-polysaccharide from mangosteen (Garcinia mangostana) rind: Optimization using response surface methodology. Carbohydrate Polymers, 83: 600-607
Gan, C.Y., & Latiff, A.A. (2011). Antioxidant Parkia speciosa pod powder as potential functional flour in food application: Physico-chemical properties characterization. Food Hydrocolloids, 25: 1174-1180.
Abedin, M.Z, Karim, A.A., Ahmed, F., Latiff, A.A, Gan, C.Y., Ghazali, F.C., & Sarker M.Z.I (2013). Isolation and characterization of pepsin-solubilized collagen from the integument of sea cucumber (Stichopus vastus). Journal of Science and Food Agriculture, 93(5); 1083-1088.
Lew, L.C., Liong, M.T., & Gan, C.Y. (2012). Growth optimization of Lactobacillus rhamnosus FTDC 8313 and the production of putative dermal bioactives in the presence of manganese and magnesium ions. Journal of Applied Microbiology, 114(2): 526-535
Lew, L.C., Gan, C.Y., & Liong, M.T. (2012). Derma bioactives from lactobacilli and bifidobacteria. Annals of Microbiology, 63(3): 1047-1055
Siow, H.L. & Gan, C.Y. (2013). Extraction of antioxidative and antihypertensive bioactive peptides fromParkia speciosa seeds. Food Chemistry, 141: 3435-3442.
Tan, C.C. Abdul Karim, A., Aishah, A.A, & Gan, C.Y. (2013). Extraction and characterization of pepsin-solubilized collagen from the body wall of crown-of-thorns Starfish (Acanthaster planci). International Food Research Journal, 20(6): 3013-3020
Abedin, M.Z., Karim, A.A., Latiff, A.A., Gan, C.Y., Ghazali, F.C., Zzaman, M., Hossain, M.M., Ahmed, F., Absar, N., & Sarker, M.Z.I. (2013). Physicochemical and biochemical properties of pepsin-solubilized collagen isolated from the integument of sea cucumber (Stichopus vastus). Journal of Food Processing and Preservation,38(4):2027-2036
Barzideh, Z., Karim, A.A., Latiff, A.A., Gan, A.A., Benjakul, S. (2014). Isolation and Characterization of Collagen from the Ribbon Jellyfish (Chrysaora sp.). International Journal of Food Science and Technology, 49:1490-1499.
Tan, E.S, Ngoh, Y.Y. & Gan, C.Y.(2014) A comparative study of physicochemical characteristics and functionalities of pinto bean protein isolate (PBPI) against the soybean protein isolate (SPI) after the extraction optimization. Food Chemistry 152: 447-455.
Tan, P.L., Peh, K.K., Gan, C.Y., Liong, M.T. (2014). Bioactive dairy ingredient for food and non-food applications. Acta Alimentaria, 43(1): 113-123.
Leong, Y.H., Chiang, P.N., Jaafar, H.J., Gan, C.Y., Abd Majid, M.I. (2014). Contamination of food samples from Malaysia with polychlorinated dibenzo-p-dioxins and dibenzofurans and estimation of human intake. Food Additive and Contaminants: Part A. 31(4), 711-718
Leong, Y.H., Gan, C.Y., Tan, M.A.F., Abd Majid, M.I. (2014). Present Status and Future Concerns of Expanded Newborn Screening in Malaysia: Sustainability, Challenges and Perspectives. Malays J Med Sci. Mar-Apr 2014; 21(2): 64-68
Leong, Y.H., Gan, C.Y., Abd Majid, M.I. (2014). Dioxin-Like Polychlorinated Biphenyls, Polychlorinated Dibenzop-Dioxins, and Polychlorinated Dibenzofurans in Seafood Samples from Malaysia: Estimated Human Intake and Associated Risks. Arch Environ Contam Toxicol. 67(1), 21-28
Leong, Y.H., Chiang, P.N., Jaafar, H.J., Gan, C.Y., Abd Majid, M.I. (2014). Occurrence and Dietary Intake of Polychlorinated Dibenzo-p-dioxins and Dibenzofurans in Malaysia. In: From Sources to Solution. Proceedings of the International Conference on Environmental Forensic 2013, Chapter 10, (Azis et al. eds). Pp. 49-53. Doi:
Abedin, M.Z., Karim, A.A., Latiff, A.A., Gan, C.Y., Ghazali, F.C., Barzideh, Z., Ferdosha, S., Akandaa, M.J.H., Zzaman, M., Karime, M.R. & Sarker, M.Z.I. (2014).Biochemical and radical-scavenging properties of sea cucumber (Stichopus vastus) collagen hydrolysates. Natural Product Research 28(16),1302-1305.
Siow, H.L., Gan C.Y. (2014). Functional protein from cumin seed (Cuminum cyminum): Optimization and characterization studies. Food Hydrocolloids 41: 178-
Barzideh, Z., Latiff, A.A., Gan, A.A., Abedin, M.Z., Karim, A.A. (2014). ACE inhibitory and antioxidative activities of collagen hydrolysates from the ribbon jellyfish (Chrysaora sp.). Food Technology and Biotechnology, 49, 1490-1499.
Barzideh, Z., Latiff, A.A., Gan, A.A., Abedin, M.Z., Karim, A.A. (2014).Functional properties of collagen hydrolysates from the jellyfish (Chrysaora sp.). Agro Food Industry Hi Tech, 25(4): 27-32
Chin, C.F., Tan, S.J., C.Y. Gan, & Lim, T.S. (2015). Identification of peptide based inhibitors for α-amylase by phage display. International Journal of Peptide Research and Therapeutics, 21(3): 237-242
Gan C.Y., Kee S.M., Chiang P.N. (2015). Extraction and Identification of Antidiabetic and Antioxidative Phytochemicals from Pisang awak Leaves. International Journal of Pharmacognosy and Phytochemical Research 2015; 7(3); 461-472
Ngoh, Y. Y., Leong, Y.-H. and Gan, C. Y. (2015). Optimization study for synthetic dye removal using an agricultural waste of Parkia speciosa pod: A sustainable approach for waste water treatment. International Food Research Journal 22(6): 2351-2357
Abedin, M. Z., Karim, A. A., Gan, C.Y., Ghazali, F. C., Barzideh, Z., Zzaman, W. and Zaidul, I. S. M. (2015). Identification of angiotensin I converting enzyme inhibitory and radical scavenging bioactive peptides from sea cucumber (Stichopus vastus) collagen hydrolysates through optimization. International Food Research Journal 22(3): 1074-1082
Liew WPP, Ong JS, Gan CY, Yahaya S, Khoo BY, Liong MT (2015) Gut Microbiome and Stress. In: MT Liong (Ed), Beneficial Microoorganisms in Medical and Health Applications, vol. 28, pp. 223-255, Springer International Publishing, Switzerland
Loh YS, Lew LC, Khoo BY, Khalil NA, Gan CY, Liong MT (2015) Roles of Probiotics on Lifelong Diversifications of Gut Microbiota. In: MT Liong (Ed), Beneficial Microorganisms in Food and Nutraceuticals, vol 27, pp. 245-263, Springer International Publishing, Switzerland
Nurul Hidayatul Afifah B. S..S. & Gan C.Y. (2016). Antioxidative and amylase inhibitor peptides from Basil seeds. International Journal of Peptide Research and Therapeutics, 22: 3-10
Ngoh, Y.Y. & Gan C.Y. (2016). Enzyme-assisted extraction and identification of antioxidative and a-amylase inhibitory peptides from Pinto beans (Phaseolus vulgaris
Tan, H.F. & Gan C.Y. (2016). Polysaccharide with antioxidant, α-amylase inhibitory and ACE inhibitory activities from Momordica charantia. International Journal of Biological Macromolecules, 85: 487-496.
Siow, H.L. & Gan C.Y. (2016). Extraction, identification, and structure–activity relationship of anti-oxidative and α-amylase inhibitory peptides from cumin seeds (Cuminum cyminum). Journal of Functional Food, 22, 1-12.
Kamarudin, F. & Gan, C.Y. (2016). Molecular structure, chemical properties and biological activities of Pinto bean pod polysaccharide. International Journal of Biological Macromolecules, 88: 280-287
Ngoh, Y.Y., Lim, T.S., & Gan, C.Y. (2016). Screening and Identification of Five Peptides from Pinto Bean with Inhibitory Activities against α-Amylase using Phage Display Technique. Enzyme and Microbial Technology, 89: 76-84
Siow, H.L. & Gan C.Y. (2016). Optimization study in extracting anti-oxidative and α-amylase inhibitor peptides from cumin seeds (Cuminum cyminum). Journal of Food Biochemistry. Doi: 10.1111/jfbc.12280
Siow, H.-L., Choi, S.-B.,Gan, C.-Y. (2016) Structure–activity studies of protease activating, lipase inhibiting, bile acid binding and cholesterol-lowering effects of pre-screened cumin seed bioactive peptides. Journal of Functional Foods, 27: 600-611
Murugan, P., Han, L., Gan, C.-Y., Maurer, F.H.J., Sudesh, K. (2016). A new biological recovery approach for PHA using mealworm, Tenebrio molitor. Journal of Biotecjnology, 239: 98-105
Park, Y.H., Hamidon, F., Rajangan, C., Soh, K.P., Gan, C.Y., Lim, T.S., Wan Abdullah, W.N., Liong, M.T. (2016). Application of Probiotics for the Production of Safe and High-quality Poultry Meat, Korean Society for Food Science of Animal Resources, 36 (5): 567-576
Siow, H.L., Lim, T.S. & Gan, C.Y. (2017). Development of a aworkflow for screening and identification of α-amylase inhibitory peptides from food source using an integrated Bioinformatiics-phage display approach: Case study – Cumin seed. Food Chemistry, 214: 67-76
Siow, H.L., & Gan, C.Y. (2017). Optimization study in extracting anti-oxidative and α-amylase inhibitor peptides from cumin seeds (Cuminum Cyminum). Journal of food Biochemistry, 41(1), doi: 10.1111/jfbc.12280
Ngoh, Y.Y., Choi, S.B., & Gan, C.Y. (2017). The potential roles of Pinto bean (Phaseolus vulgaris cv. Pinto) bioactive peptides in regulating physiological functions: Protease activating, lipase inhibiting and bile acid binding activities. Journal of Functional Foods, 33, 67-75.
Siow, H.L., Tye, G.J., & Gan, C.Y. (2017). Pre-clinical evidence for the efficacy and safety of a-amylase inhibitory peptides from cumin (Cuminum cyminum) seed. Journal of Functional Foods, 35, 216-223.
Ngoh, Y.Y. & Gan, C.Y. (2017). Identification of Pinto bean peptides with inhibitory effects on α-amylase and angiotensin converting enzyme (ACE) activities using an integrated bioinformatics-assisted approach. Food Chemistry, http://dx.doi.org/10.1016/j.foodchem.2017.04.166
Hazlami Habib, M.A., Gan, C.Y., Othman, F., Zainudin, N.N., Latiff, A.A., & Ismail, M.N. (2017). Proteomics analysis of latex from Hevea brasiliensis (clone RRIM 600). dx.doi.org/10.1139/bcb-2016-0144
Murugan, P., Gan, C.Y., Sudesh, K. (2017). Biosynthesis of P(3HB-co-3HHx) with improved molecular weightsfrom a mixture of palm olein and fructose by Cupriavidus necatorRe2058/pCB113. International Journal of Biological Macromolecules 102 (2017) 1112–1119