Organization chart
Page 7 of 11
Mrs. Hayati Muhamad Noh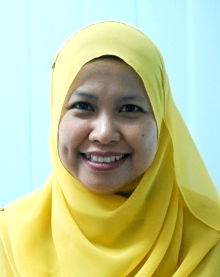 Contact:
Address: Analytical Biochemistry Research Centre (ABrC), Universiti Sains Malaysia, 11800 USM, Penang, Malaysia
Telephone: 04-653 2442
Email: hayatimnoh@usm.my
Experiences include method development/validation; analysis by gas and liquid chromatograph with various mass spectrometer detector. Approved Signatory for analysis under ISO/IEC 17025 accreditation since 2001. Gained experience also with WADA accreditation (1995-2010).

Analysis of drugs and trace analysis of contaminants in ppb levels.