Services - NMR service
Page 5 of 8
Advance your research with NMR 700 MHz ASCEND™ spectrometer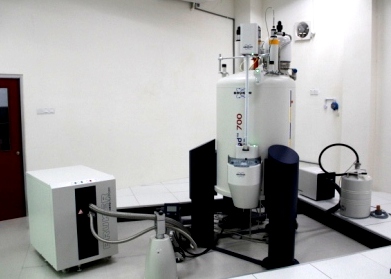 UPNMR At a Glance
IPharm in collaboration with USM under the management of 'Unit Perkhidmatan NMR' (UPNMR) provide access to a state-of-the-art NMR facility with Bruker's 700 MHz ASCEND™ spectrometer. The facility is ideal for natural products elucidation, structural biology research and materials research applications. Additionally, it comes with a TCI cryo-probe which gives a much needed sensitivity to observe sample amounts that were considered too small only a few years ago.
UPNMR provides
Natural Products and Synthesis Products Platform : Experiment: 1H, 13C, HMBC, HSQC, COSY, TOCSY, NOESY, Full Set Package
Metabolomics and Proteomics Platform : Experiment: 1H, Jres (Profilling), HSQC (profiling), Full Set Package
Time slot (hourly rate) Platform
Unlimited sample (monthly rate) Platform
Note:
Price charges may vary with sample turnaround time
Price charges depend on the number of samples received
Unlimited sample package only for 1H and 13C experiments.
Why Us?
Higher sensitivity
Better stability and reproducibility
Suitable for volume limited samples
Quick turnaround time
Offers better accuracy and precision required for metabonomics and metabolomics application
Platform-based service charge – flexible and affordable rate
Contact Us: